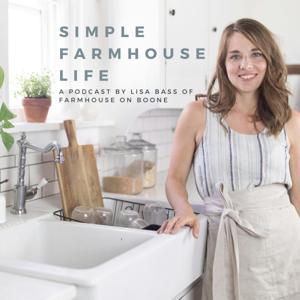 133. Should Everyone Try Making Cheese at Home? | Robyn Jackson of Cheese From Scratch | Homestead Cheesemaking
05.19.2022 - By Simple Farmhouse Life
If you have ever thought of making cheese at home but have been overwhelmed at the idea, this episode is for you!  Robyn of Cheese From Scratch joins me to talk all things cheesemaking.  Robyn's desire is to make this skill accessible to everyone.  We talk about how cheesemaking can become a normal part of your everyday routine, just like any other skill on the homestead.  A common misconception is that cheesemaking is just for those who own a dairy animal, but this isn't true!  Anyone can learn to make cheese from scratch.
In this episode, we cover:
The distinction between homestead and professional cheesemaking
How to decide what type of cheese to make
Addressing some common fears about the safety of making cheese at home
The easiest cheeses to start with
How cheesemaking mimics what happens naturally in a calf's stomach
Which supplies you need to buy and which supplies you can DIY
Surprising ways to repurpose all of the leftover whey
The secret to incorporating cheesemaking into your everyday life
Thank you to our sponsor!  Redmond Real Salt brings you salt exactly as nature created it – unrefined, ancient sea salt with a complete blend of minerals and a subtle, sweet flavor unlike any salt on earth.  Redmond Real Salt is offering my listeners 15% off your first purchase with the code FARMHOUSE.  Visit bit.ly/redmondfarmhouse to order today.
Check out my most recent purchase from Redmond: real salt fine bulk (10lb bucket)
RESOURCES
Cheesemaking.com
The Art of Natural Cheesemaking by David Asher
Homestead Cheesemaking 101 Course | Use code SimpleFarmhouseLife10 for 10% off your purchase of any of Robyn's course plans
CONNECT
Robyn Jackson of Cheese From Scratch | Website | Instagram | YouTube | Facebook | Podcast
Lisa Bass of Farmhouse on Boone | Blog | YouTube | Instagram | TikTok | Facebook | Pinterest
Join us in the Simple Farmhouse Life Facebook community!
GET MORE FROM THIS EPISODE
Watch this episode on YouTube.
View full show notes and transcript on the blog.