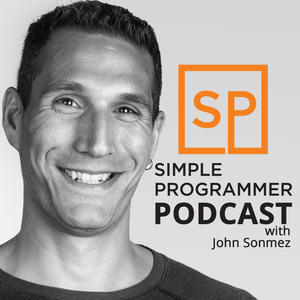 Simple Programmer Podcast
By John Sonmez
What's Simple Programmer Podcast about?
The Simple Programmer Podcast is a short podcast that is a mix of career advice, philosophy and soft skills from successful author and software developer, John Sonmez.
John is the founder of http://simpleprogrammer.com, one of the most popular software development blogs, and the author of the best-selling book, "Soft Skills: The Software Developer's Life Manual." (http://simpleprogrammer.com/softskills)
Geared towards a programmer or software developer audience, but contains practical advice on:
Career development
Entrepreneurship
Fitness
Finance
Productivity
Personal development
And more...
That anyone can benefit from.
Each episode is between 5 and 10 minutes long with at least 3 new episodes each week.