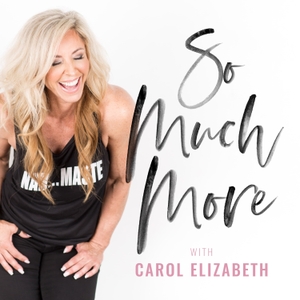 So Much More Podcast With Carol Elizabeth
By Carol Elizabeth
What's So Much More Podcast With Carol Elizabeth about?
If you want real talk and real truths about what is possible for you in all aspects of life then the So Much More Show is for you. Wellness, entrepreneurship, relationships, and business knowledge bombs will be dropped in every episode. Tune in to hear Carol Elizabeth, former couch potato turned 2-time international fitness pro and once stay at home mom turned legacy entrepreneur share how she found her strength after 40 to reclaim her life. You will learn from Carol's guests the real story behind the glory of their lives and leave empowered, entertained and with fire in your belly that YOU can also have a life with So Much More. Real talk Rants with Carol will give you raw insight into what it actually takes to have what you want in your life. It's simpler than you think!
The time for you is NOW! Please share the episodes that shift you into action so that you can be the inspiration to others.
Join the "So Much More" family: http://iamsomuchmore.com/group