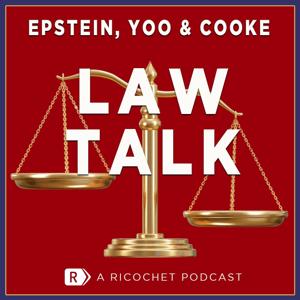 It's the first Law Talk of the new year and Professors Richard Epstein and John Yoo are starting off 2018 with verve. On this installment: who looks worse in the Mueller investigation, President Trump or the FBI? Is trading DACA for a border wall a grand bargain or a big mistake? Can California prosecute business owners for working with federal immigration authorities? Can blue states sue their way out of the new tax law? Will the Supreme Court overhaul internet taxation? Do federal judges really need clerks? And does the Americans with Disabilities Act protect "obnoxious chronic body odor"?
All that plus John Yoo, long-suffering Philadelphia Eagles fan, enjoys the sensation of human joy for the first time in his life. We can't bring ourself to tell the guy what's coming next.
Sponsored by RXBAR, Quip
Join the conversation and comment on this podcast episode: https://ricochet.com/podcast/law-talk/something-fishy/.
Podcast listeners: Now become a Ricochet member for only $2.50 a month! Join and see what you've been missing: https://ricochet.com/join/.
Subscribe to Law Talk With Epstein, Yoo & Senik in iTunes (and leave a 5-star review, please!), or by RSS feed. For all our podcasts in one place, subscribe to the Ricochet Audio Network Superfeed in iTunes or by RSS feed.