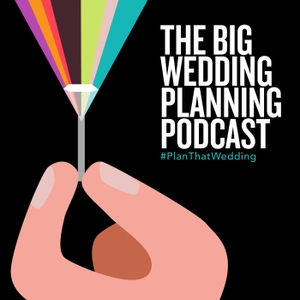 Our guests are Shia and Shashank Gupta, the sister and brother team behind Nazranaa, the biggest Indian bridal boutique in the country. They design and offer South Asian Wedding Wardrobes, and are sharing all you need to know. From figuring out what to wear during all the wedding festivities to navigating expectations of parents
Shia & Shashank are the leading South Asian designers in the US and they help couples look Instagram ready on their wedding day. To them, they are not just outfits but memories. The owners of Nazranaa, the biggest Indian bridal boutique in the country, are also the hosts and Executive producers of the hit reality web series, Nazranaa Diaries, which has over 14 million views. Their work has been featured in Forbes, Yahoo, South Asian Bride Magazine, Brown Girl Magazine - to name a few.
Big Takeaways
More South Asian weddings are considered marriages of two families, and not two individuals, so there tends to be much more family involvement in every step of the wedding planning process.
South Asian couplese often to see each other in their wedding wardrobes far before the wedding day itself.
There is a lot factors like matching colors and fits that come into play. The magic, though, is still just as potent during the ceremony.
Shivangi and Shashank's customers often leave their dresses with them for alterations and such before the big day. So there is an added element of joy and surprise when they go back to pick them up.
You don't have to go completely traditional nor "off the rack". There is so much customization that can be done.
Links We Referenced
Nazranaa Diaries Web Series on YouTube
nazranaanj.com
Nazranaa on Instagram
Nazranaa on Facebook
Nazranaa on Pinterest
Quotes
"I used to be a below average student when I was in India. I was a straight-A student when I moved to the US. But never has my dad looked at our report cards. He never cared about our studies. He always believed that kids should be allowed to play and grow." - Shashank
"How do you know what job to dedicate? So the standard is, if you think someone can do that work 75% as efficiently as you can, hand it over." - Shashank
"Whether it's your mom, whether it's your dad, whether it's your best friend, until they're supportive - I'm not saying you shouldn't guide the bride to do the right thing, that's exactly why we're here - but if you don't like something there is a way to say it. There is a way to convey that message without being very dramatic about things." - Shivangi
"Once you see her coming down that aisle - you could [have seen] her in that outfit in the store a million times - but once you see her coming down that aisle in her full get-up, it's a memory." -Shashank
Plan your wedding using The Big Wedding Planning Master Class. A self-paced digital course created with love for you by Christy & Michelle.
The Big Wedding Planning Podcast is...
Hosted and produced by Christy Matthews and Michelle Martinez.
Edited by Veronica Gruba.
Music by Steph Altman of Mophonics.
On Instagram @thebigweddingplanningpodcast and be sure to use #planthatwedding when posting, so you can get our attention!
Inviting you to become part of our Facebook Group! Join us and our amazing members. Just search for The Big Wedding Planning Podcast Community on Facebook.
Easy to get in touch with. Email us at [email protected] or Call and leave a message at 415-723-1625 and you might hear your voice on an episode
On Patreon. Become a member and with as little as $5 per month, you get bonuse episodes, special newsletters and Zoom Cocktail Hours with Christy & Michelle!
Our Partners
Special Deals for Listeners - TBWPP Enthusiastically Approved!
Wedfuly
SuitShop
FlowerMoxie
The Flashdance
Cactus Collective
Unboring Wedding Academy