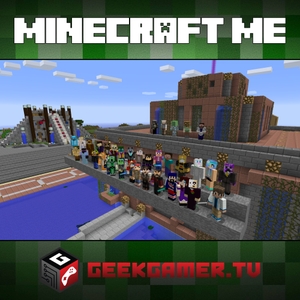 The points have been tallied and the results are IN!  We share the community voting for the best Football Stadium in Minecraft!  We also cover the Minecraft News of the Week, have a Server Showcase, take your Questions and discuss what is coming up!  All this and more on Minecraft Me!
Show notes and episode page here: http://ggtv.me/mm159
Please RATE, FOLLOW and SUBSCRIBE!
Support Minecraft Me on Patreon! http://patreon.com/minecraft
YouTube:  http://youtube.com/GeekGamerNetwork
Dailymotion:  http://dailymotion.com/GeekGamerTV
Twitter:  http://twitter.com/GeekGamerTV
Facebook:  http://www.facebook.com/geekgamertv
Google+:  http://plus.google.com/+GeekGamerTV
Steam:  http://steamcommunity.com/groups/geekgamertv
Hosts: Chase Nunes, Joseph Falbey
Minecraft can be found at: http://www.minecraft.net
 
Support the show on Patreon and become one…TODAY!
GeekGamer.TV Updates via E-Mail: Subscribe to GeekGamer.TV by Email
Like our Facebook Fan Page, Join our Facebook Group, Steam Gaming Group and also follow us on Twitter!
Connect with us!
Minecraft News:
Minecon 2015 is Announced!
http://www.theguardian.com/technology/2015/feb/03/minecraft-uk-minecon-event-coming-to-london-july?lang=en&utm;_campaign=SendToFriend&uid;=0&utm;_content=item_link&utm;_source=email&utm;_medium=anonymous&china;_variant=False
https://mojang.com/2015/02/minecon-2015-announced/
11 Virtual Computers in Minecraft
http://www.businessinsider.com/virtual-computers-built-inside-minecraft-2015-2?op=1
Reminder about name changes!
http://geekgamer.tv/forums/index.php/topic,2340.0.html
Server Showcase of the Weeeeeek!
IKEA Villager Bazaar – public villager trading area build by mod dtherr in creative for the use of the community as a means to gain emeralds and resources that they would not be able to have access to in other circumstances.