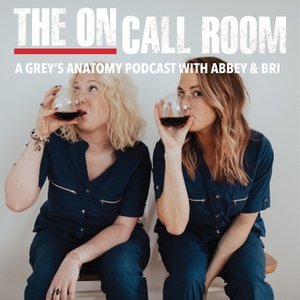 This week on the On-Call Room Bri talks for a super long time about buying a cauliflower. That's all the time we have today folks! NO, kidding...but it was a really long story so I would like to personally apologize to everyone for having to listen to it.
We have some exciting announcements this week! With September 30th being National Podcast Month we are thrilled to debut our dope ass swag. If you are interested in purchasing a tank top or a t-shirt -- that is super cute and soft please e-mail us at [email protected] AND be sure to keep an eye on our Instagram @theoncallroompod because maybe you will have the chance to win one!
This weeks episode of Grey's is all about telling the truth. The patients reflect it in their story lines, for example: Connie 'tongue lady' calling out her best friends bad breath. The doctors story lines reflect it, for example: George admitting he is an adulterer. See? Truth.
Meredith finally has to own up to Cristina and admit she is still sleeping with Derek (in the sexy red sheets). The truth comes out about George being an intern. The truth comes out about George sleeping with Izzie. The truth comes about about Bailey not being able to be #2. The truth comes out about Susan's case and how she died. This episode is a pile of truth bombs.
What is your truth??
Mine is that I bought a cauliflower today.
SPONSORS:
www.thisisaday.com
Use code OnCallRoomxADAY for 20% off your first order! DO IT!
Donate TODAY and receive bonus episodes AND the opportunity to cohost with Abbey and Bri!
Visit:
www.patreon.com/theoncallroom
Also leave a review -- you're already on the page to do it!