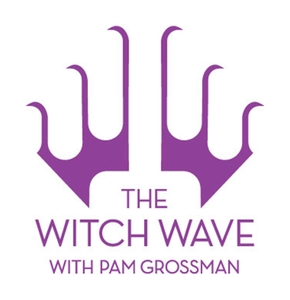 #67 - Taisia Kitaiskaia, Literary Witch
03.10.2021 - By The Witch Wave
Taisia Kitaiskaia is a Russian-American poet and writer of witchly words. She is the author of two books of experimental, enchanting advice from the infamous Slavic witch, Ask Baba Yaga: Otherworldly Advice for Everyday Troubles and its follow-up, Poetic Remedies for Troubled Times from Ask Baba Yaga. She has also written The Nightgown and Other Poems and Literary Witches: A Celebration of Magical Women Writers, the latter of which is a collaboration with artist (and former Witch Wave guest) Katy Horan that celebrates magical women writers - and was an NPR Best Book of 2017. Together they also released a divination deck, The Literary Witches Oracle.
Taisia has received fellowships from Yaddo and the James A. Michener Center for Writers, and her work has been published in journals such as A Public Space, Gulf Coast, Los Angeles Review of Books, StoryQuarterly, Fence, Guernica and more. She has written for The Hairpin, Electric Literature, Jezebel, and Bitch Media, and her work has been nominated three times for a Pushcart Prize.
On this episode, Taisia discusses her favorite witchly writers, the fairy tale aspects of her Russian childhood, and the wild wisdom of Baba Yaga.
Pam also discusses the crone archetype, and answers a listener question about changing direction in her academic study of death.
Our sponsors for this episode are Temperance Home and Bar, Mithras Candle, Seasonal Steep, BetterHelp, Hag Swag, and Sarah Faith Gottesdiener's Moonbeaming online course