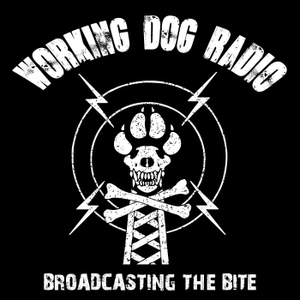 Episode 68: Talking Scents with Cameron Ford HITS Double Drop!
09.03.2019 - By Working Dog Radio
Eric and Ted corner Cameron Ford from Silver State K9 and "Talking Scents" Podcast at HITS K9 Conference 2019 in Chicago to talk about tracking. They talk about tips, tricks, failures, success and everything in between and drop the episode on BOTH shows!!
Thank you Cameron! Always great to have you on! Silver State K9 https://www.SilverStateK9.com or on Facebook and Instagram @silverstatek9
AND OF COURSE, thank you to our amazing partners:
HITS K9 Training and Conferencehttps://www.hitsk9.netor Jeff Barrett at 863-529-5113
Ray Allen Manufacturing https://www.rayallen.com(USE DISCOUNT CODE WorkingDogRadio FOR 10% OFF your next order)
Dogtra (Use Discount Code WDR10 for 10% a single item over $200)www.dogtra.com
QuickDerm by Vet Care Fast Acting Wound Care for all species of animal! Use Code: 10WDR For 10% off your first order!! www.vetcare.us
Tactical Police K9 Training at https://www.tacticalpolicek9training.com
EMPLOYMENT OPPORTUNITY: Coast 2 Coast K9 www.c2ck9.com
Southern Coast K9 at https://www.southerncoastk9.com or 877.903.DOGS
CombatBet Challenge Coins at https://www.combatbet.com USE DISCOUNT CODE: WORKINGDOGRADIO
True Scent K9 Training Aids available HERE: https://www.truescentk9.com or512-533-2040 Discount Code WDR15 for 15% off training aids excluding accessories
ALM Suits & K9 Equipment https://www.almk9equipment.com (Ise Discount Code WDRADIO for 10% off your first order)
Tripwire Operations Group https://www.tripwireops.org
Music with permission By Brother Dege - Official www.brotherdege.blogspot.com, on itunes, Amazon, CD Baby or anywhere you stream digital media
Edited and co-produced by Alesha BrandtVisit us on our other sites: https://www.patreon.com/WorkingDogRadiohttps://www.hrdpolicek9.com