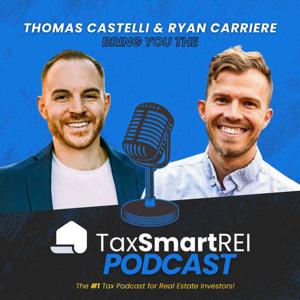 Tax Smart Real Estate Investors Podcast
By Hall CPA, PLLC
What's Tax Smart Real Estate Investors Podcast about?
The Tax Smart Real Estate Investors Podcast is a show that focuses on tax, accounting, and finance tips for real estate investors and business owners. We bring on guests to talk through complex topics and we break it down into bite-sized chunks of knowledge for our listeners.
Our episodes generally run 30-60 minutes of no-nonsense, hard-hitting information. We know your time is valuable so our goal is to save you thousands of dollars per episode.
Hall CPA, PLLC is a CPA firm that exclusively serves real estate investors and real estate business owners. We work with synidcators and developers closing multi-million dollar deals, as well as small investors building a portfolio from scratch.
Check us out at www.TheRealEstateCPA.com and www.TaxSmartInvestors.com for more free content and information.
Enjoy!