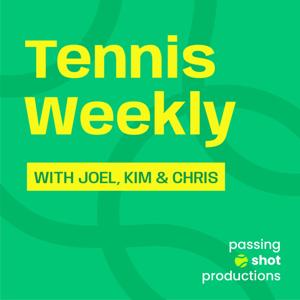 Tennis Weekly
By Passing Shot Productions
What's Tennis Weekly about?
Brought together by their unified passion for tennis and ability to not take each other too seriously, Joel, Kim & Chris are here every Monday to give their verdict on the biggest stories from everyone's favourite fuzzy yellow ball sport.
From the sublime to the ridiculous (with the odd bit of trivia thrown in), Tennis Weekly serves an all-court mix of ATP/WTA tour catch-ups, Grand Slam round-by-round coverage and special guests in conversation, to be your definitive tennis companion for the 2023 season.
So whether you're a casual baller or a full time diehard, it's time to pick up your headphones and have a listen to our racket. Ready? Play! Hosted on Acast. See acast.com/privacy for more information.