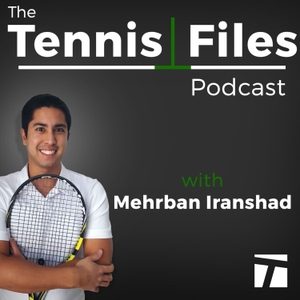 On Episode 164 of The Tennis Files Podcast, I interviewed elite coach Edgar Giffenig about how to play smarter singles matches.
Edgar is the founder of Giffenig Tennis and is an International Consultant for TennisGate. He was a National Coach for the USA, Germany, and Mexico. He is also a frequent speaker in coaching workshops throughout the world including my previous Tennis Summits. Edgar has 30 years of experience coaching players of all ages and levels. With his long-term tennis experiences, Edgar wrote two books entitled, "Play Tennis with Passion" and "Developing High Performance Tennis Players".
On the show, you'll learn why you should think about tennis strategy like gambling, the laws of first and second serves, how to figure out the best playing style for your game, our observations about singles strategy from the U.S. Open, pre and post-match strategy tips, winning tactics for USTA League players, and much more!
I hope you enjoy my interview with Edgar! Let us know what you think about this episode in the comments below!
And be sure to subscribe to Tennis Files to receive the latest tennis content to improve your game straight into your inbox!
LINKS:
Tennisgate.com
Giffenig Tennis YouTube Page
Edgargiffenig.com
Tennisfiles.com/edgar
BOOKS:
Play Tennis with Passion
Developing High Performance Players
Learn more about your ad choices. Visit megaphone.fm/adchoices