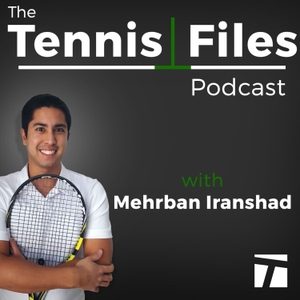 TFP 117: Q&A Edition - Playing Serve and Volleyers, Serving Bigger, Movement Tips, and More!
10.23.2019 - By The Tennis Files Podcast
On Episode 117 of The Tennis Files Podcast, I am back to answering questions that I received from our fellow tennis players about playing against serve and volleyers and counterpunchers, maintaining fitness and improving movement, controlling power on our strokes, hitting faster serves and more! I routinely receive emails and messages on my social media accounts asking questions about how to level up, and I picked out eight of them to answer on the podcast today.
I really enjoy receiving emails from the Tennis Files community and do my best to answer them all (even if it takes a little while!). I really appreciate all your questions because they will help a lot of passionate tennis players like you and me improve our games. Thanks again to every single one of you who has contacted me with your excellent questions!
I really hope you enjoy this episode! If you like the format, let me know in the comments below so that I can do more Q&A episodes in the future!
And be sure to subscribe to Tennis Files below to receive the latest tennis content to improve your game straight to your inbox!
Questions on today's show:
How to play against serve and volleyers - Dan
How to play against counterpunchers - Dave (4.5)
I have difficulty hitting a good forehand on the far right corner of the court after hitting a backhand from the left corner of the court. Is there a technique on how i should hold the racquet while I am running from the left corner to right corner to be able to hit the good forehand? Davy - 4.0
My strokes are great but my movement needs to be faster as I'm overweight. Other than slimming down, what can I do to get faster moving around the court and to get into ready position? Lots of times my opponents hit hard to the corner and I miss it since I can't run that fast. Thanks. - Danielle 4.0
Power with control - If i hit with power, then the ball goes out. - Anonymous
Dear Mehrban - My son plays tennis U14. His problem is that he is afraid and loses focus and control especially in critical moments and situations. For example by Deuce and Advantage. He can not control his Game and loses the Game or the Set. How to strengthen the shoulders to get stronger and more power and therefore have stronger hits (Forehand, Backhand and Volley). Thanx - Osama
Being an effective volleyer. - Dennis , 3.0
Power, form, and strength on my serve - Emma - 3.5
Learn more about your ad choices. Visit megaphone.fm/adchoices