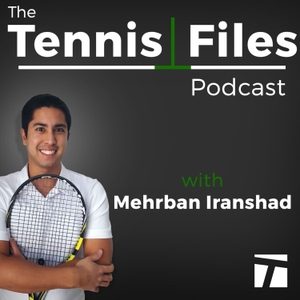 On Episode 165 of The Tennis Files Podcast, I reveal 6 ways to attack the net that will help you play more aggressively and put pressure on your opponents.
I always have been a baseliner since I first started playing. When I got to college, my coach Keith Puryear (who was my very first interview on the podcast, Episode #2!), showed me the fundamentals and the importance of attacking the net when the opportunity presents itself. I vividly remember a match against our conference rivals where I followed the directions of my head coach Keith and Assistant Coach Matt Bilger (who I had on the podcast a couple years back, Episode #43). They told me to concentrate on recognizing short balls and approaching the net on them instead of staying back at the baseline to create pressure on my opponent.
If your opponents know you aren't going to attack the net when they are in trouble, they are going to be comfortable and can hit a lower quality ball back in the court and still be in decent shape. Compare that with being out of position and knowing that your opponent is going to be rushing the net, taking time away from you and volleying your shot, giving you half as much time to recover. Attacking the net creates pressure, errors, and is a game changer.
With that in mind, on today's episode, you're going to learn 6 simple and effective ways to attack the net and win more tennis matches.
I hope you enjoy this episode! Let me know what you think about it in the comments below!
And be sure to subscribe to Tennis Files to receive the latest tennis content to improve your game straight into your inbox!
LINKS:
Approach Shot YouTube Video
tennisfiles.com
TFP 002 with Keith Puryear
TFP 043 with Matt Bilger
Learn more about your ad choices. Visit megaphone.fm/adchoices