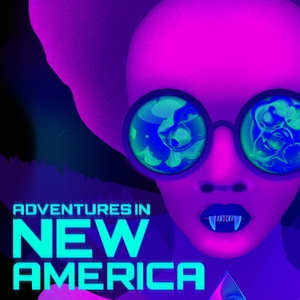 WARNING: THIS EPISODE CONTAINS LANGUAGE AND THEMES THAT MAY NOT BE APPROPRIATE FOR ALL AUDIENCES. LISTENER DISCRETION IS ADVISED.
Simon joins forces with her enemies to defeat a greater evil. The Tetchies sway public opinion through deceptive clickbait. IA makes his first kill.
Do you love New America? Want more Tales of the Tragic American After? Join our Patreon and get a behind-the-scenes look at the creative process for Adventures in New America, with Director's Notes for past and future episodes, deleted scenes, and livestreams with co-creator Stephen Winter. What else will New America cook up for you? A slice of Miss Trixie's famous chantilly cake from the Ambrosssia Diner? Perhaps! You'll just have to join and see.
Starring: Paige Gilbert, Pernell Walker, Julian Fleischer, and the New American Players. A Night Vale Presents production. For more information and full credits, go to adventuresinnewamerica.com.