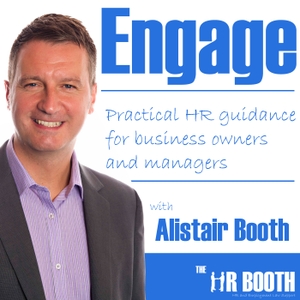 In episode 10 of Engage, Alistair Booth discusses the benefits of developing your people, specifically your management team, and how you think about HR in your business.
Quite often we focus on the task, and don't think about how we engage with our people. Alistair talks about workshops he has been running with clients, offsite and onsite, and enabling the management team to learn how to give feedback and hold difficult conversations.
Alistair also discusses the benefits of doing so and helping newly promoted supervisors adjust to their new role, along with the benefits of planning, and how you look at HR in your business, including:
Recruitment
Induction
Staff Development
Culture
Mindset
Support
Why not take an hour from your routine and think about how you approach HR in your organisation?
Alistair also shares details of the workshops The HR Booth are running over the coming months, and further information can be found by clicking this link - http://thehrbooth.co.uk/services/training-development/
You can reach out to Alistair on twitter @TheHrBooth, by email [email protected] or via www.thehrbooth.co.uk
Disclaimer: You must not rely on the information in this podcast as an alternative to Human Resource Management advice from an appropriately qualified professional. If you have any specific questions about any Human Resource Management matter you should consult an appropriately qualified professional.
You should never delay seeking Human Resource Management advice, disregard Human Resource Management advice, or commence or discontinue any Human Resource Management action because of information in this podcast.
Please contact The HR Booth directly for specific advice and guidance.