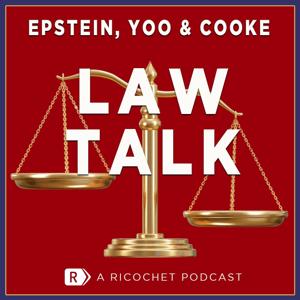 On the first Law Talk of 2019, Professors Richard Epstein and John Yoo are tackling the big issues: can President Trump build a border wall by declaring a national emergency? Was the FBI within its rights to open an investigation of the president after the Comey firing? What happens when a Supreme Court justice stops […]
Join the conversation and comment on this podcast episode: https://ricochet.com/podcast/law-talk/the-burger-kings/.
Now become a Ricochet member for only $5.00 a month! Join and see what you've been missing: https://ricochet.com/membership/.
Subscribe to Law Talk With Epstein, Yoo & Senik in Apple Podcasts (and leave a 5-star review, please!), or by RSS feed. For all our podcasts in one place, subscribe to the Ricochet Audio Network Superfeed in Apple Podcasts or by RSS feed.