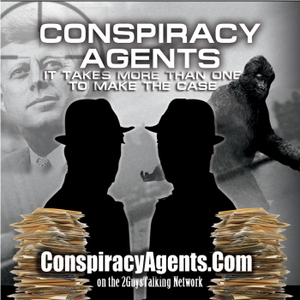 The Conspiracy Agents Podcast on The 2GuysTalking Podcast Network
By Kevin Hawthorne & Dr. Michael Lynch via The 2GuysTalking Podcast Network
What's The Conspiracy Agents Podcast on The 2GuysTalking Podcast Network about?
Conspiracies, by definition, require more than one person to be involved. Conspiracy Agents is your opportunity to get involved in the discussion, investigation and fact-finding in regard to today's most interesting Conspiracies. Bigfoot, The Illuminati, UFOs and more. Grab your credentials, straighten your thin black tie - it's time to dig into the growing stack of manila files.
Open your mind. It's time for Conspiracy Agents with Dr. Michael Lynch and Mike Wilkerson.