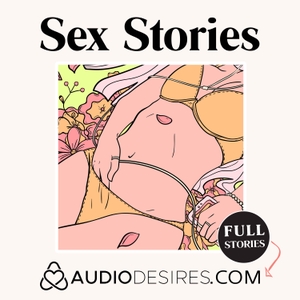 Listen to the full story: https://audiodesires.com/story/dominant-photographer/
In this story, a prominent photographer is returning a favor to a friend by shooting a commercial project. Normally, this kind of gig is below his paygrade. He shows up on set in a terrible mood...until he sees you. A playful, unique model with a submissive side immediately brings out the dominant nature of the photographer. Some flirting on the set leads to you both staying late to indulge in your fantasies.
"I'm at my best behind the camera.
If you want to see my work, just take a look at the billboards up and down the Sunset strip in Los Angeles.
Occasionally, you can find my photos gracing the larger-than-life advertising screens in Times Square.
I usually get booked by major magazines and fashion houses.
I'm a little too expensive and well-known to be shooting photos for the swimsuit section of a department store catalog.
Oh, well.
I owe my friend—another photographer—a favor and today's the day he called it in.
It sounded on the phone like he was way too hungover to be able to work.
I wait impatiently at my tripod, checking the settings on my camera for what feels like the hundredth time.
Where is this model?
I'd like to get this shoot done before the sun goes down.
Around me, the set buzzes with activity.
Production assistants rush around checking light temperatures.
The art director barks orders into his cellphone while the production manager starts to sweat over the fact that we're now running five minutes late.
Oh, there you are.
The model has arrived.
Finally.
I glance up from the viewfinder of my camera.
Whoa.
You are…gorgeous.
I mean, you're a model, so it's not surprising.
But…wow.
I clear my throat and glance away, although my gaze is magnetically drawn back to you every few moments.
You are definitely way too attractive and unique looking to be modeling for a regional department store.
I wonder if you feel like this shoot is a waste of your time, too.
You make your way onto the set and stand just a few feet away from my camera.
You're wearing nothing but a small black bikini, your plump breasts just barely concealed behind the thin triangles of fabric.
Your thick and luscious legs move with grace and confidence as you test out a few poses for yourself.
"Hey there. Ready to get started?"
You flash me a bright smile and a nod as you arrange yourself beneath the array of bright, warm lights.
The light bounces off of your smooth skin and I stare at you for a few moments longer than necessary as I plan my shots.
Damn.
You are really stunning."
You will like this Audio Sex Story podcast if you're interested in bondage submission, bdsm accessories, s&m gear, bdsm items, bdsm sub, bondage domination, bdsm bound, bdsm binding, bsdm psychology, dominate and submissive toys, dominance submission psychology, bondage psychology, s&m bondage gear, bdsm bonding, binding fetish, bdsm, sm sex, bdsm dom, sex sm, bdsm sub, bdsm world, bdsm activities, bdsm culture, bdsm explained, bsdm psychology, bondage submission, bdsm stands, bdsm short, fifty shades bdsm, best bdsm clubs, psychological bdsm, bdsm imagery, bdsm posts, best bdsm romance, bdsm word, best bdsm novel, bdsm healthy, fifty shades of bdsm, bondage psychology, bdsm play scenes, bdsm bonding, bdsm explain, what's bdsm stand for, bdsm sx, experimenting with bdsm, light sm sex, healthy bdsm, bdsm and psychology, bdsm situations, s and m scenes, anonymous bdsm, photographer sex, sex photographer, sexuality photos, sex photo sex photo, sexy photo sexy photo, sexy photo, sexy sexy photo, sexy photo sexy photo sexy photo, photo sexy photo, sexy photo sexy photo sexy photo sexy photo, sexy photo hot, sexy photo sexy photo sexy, sexy pothos, boudoir photography, boudoir photo shoot, photo of sexy, photo sexy photo sexy photo, sexy photo sexy photo sexy photo sexy photo sexy photo, hot photo shoot, see photo sexy photo, sexy portraits, sexey foto, photography sexy, boudoir shoot, sexy photo sexy photo sexy photo sexy, sexy shoot, sexy photo sexy photo sexy photo sexy photo sexy photo sexy photo, the sexy photo and sexy photoshoot.