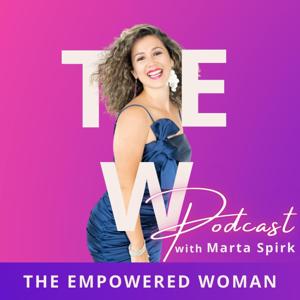 THE EMPOWERED WOMAN PODCAST, Personal Development, Mindset, Marketing, Business Strategy, Women Entrepreneur, Visibility, Credibility, Profit, TEDx, Speaking
By Marta Spirk
What's THE EMPOWERED WOMAN PODCAST, Personal Development, Mindset, Marketing, Business Strategy, Women Entrepreneur, Visibility, Credibility, Profit, TEDx, Speaking about?
Find YOUR Empowered Path toward Success in Life & Business!
TOP .5% WOMEN ENTREPRENEUR BUSINESS + EMPOWERMENT PODCAST
Are you tired of being your industry's best kept secret?
Are you ready to increase the REACH of your message while building a profitable business?
Then this is the RIGHT PLACE for you!
In this podcast, you will find conversations, strategies AND empowerment to get you more visible, credible and profitable!
My mission is to help you EMBRACE all that you are, so you can let the EMPOWERED WOMAN within come forward and lead the way.
I'm Marta Spirk, Brazilian born and raised, triplet mom, and after a 20-year career as a teacher, translator and interpreter, I found my passion in EMPOWERING WOMEN to step into their entrepreneurial potential.
I started my business in 2016 with network marketing and pivoted my way toward Empowerment Coaching & Marketing Strategy. In the last several years, I've built a 6-figure business, landed a TEDx and became a best-selling author - The Empowered Woman: The Ultimate Roadmap to Business Success.
I've chased shiny objects; I've spent a lot of $$$ in programs and mentors and ultimately found that the best investment is in learning to LOVE and ACCEPT myself and discover my UNIQUE GIFTS to share with the world.

And now I share it all on this show with you.
Let's dive in!
Podcast: www.martaspirk.com/blog
Learn: www.martaspirk.com
Connect: [email protected]
Community: www.facebook.com/groups/empoweredwomancommunity
Free 6-figure Personality Quiz: www.martaspirk.com/quiz
Free Effective Marketing Masterclass: www.martaspirk.com/marketing5
Free 30-dial to Membership The Empowered Woman School: www.freegiftfrommarta.com
Ready to work together? Here's how we can jumpstart your path to Empowerment:
My membership on mindset, strategy & connections for women entrepreneurs: www.martaspirk.com/empoweredschool
TEDx 101 Workshop:
http://bit.ly/tedx101workshop
Get on TV Workshop:
http://bit.ly/getontvworkshop
1:1 Strategy Session:
http://bit.ly/signaturetalk1-1