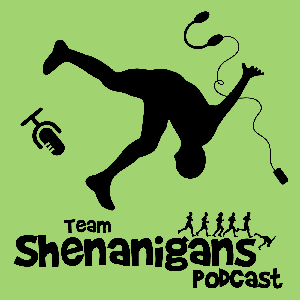 This is episode 150, the Team Shenanigans Podcast's Final Show. We recorded it in front of a live internet audience - a link to the YouTube video is here: https://www.youtube.com/watch?v=FDGKlYFI6V0. Caution: it was not censored or edited in any way, so it may not be appropriate for all audiences. This podcast has been edited and is safe for all audiences.
We were joined during our recording by author and runner Matt Fitzgerald, runDisney race announcer John Pelkey, and two Team Shenanigans Running Team members, Brian Marx and Sandy Beagan.
Many thanks to all of our listeners over the last three years. The podcast is coming to an end, due to the incredible time commitment it takes to schedule, record and produce these episodes. HOWEVER, the running team isn't going anywhere - in fact we continue to grow with more than 300 members from all around the world. You can find out how to join the team here: http://teamshenanigans.org/join-team-shenanigans/.
On behalf of Caryn, Brittany, Kenny and Ryan, I also want to thank Mark Avis who was one of the original hosts and co-founders of the podcast. His work and effort was instrumental in creating the podcast and growing the audience over the last three years.
Please RATE and REVIEW the podcast on iTunes.
It helps improve our ranking in search results, which means more people will have the opportunity to learn about the joy of running with friends and putting fun in your run.
We want to hear from you! Please follow @TeamShenanigans on Twitter and http://www.facebook.com/TeamShenanigansRunning on Facebook and let us know what you think of the show.