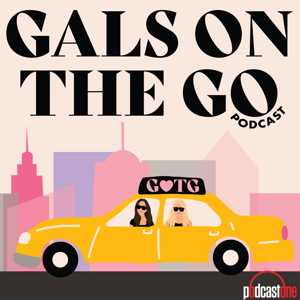 Brooke and Danielle are back in studio after almost 3 weeks apart!  Tune in to hear what the gals got up to. Danielle spent time in her hometown of Tampa, FL, and Brooke spent time in NYC and Long Island!  The gals also announce their late summer plans!  Be sure to tag @galsonthegopodcast in your listening selfies and stories!
SHOP GOTG MERCH! NEW DNT TXT COLLECTION AVAILABLE  https://fanjoy.co/collections/gals-on-the-go  
GOTG jams playlist https://open.spotify.com/playlist/1vQ4FvPya39ff8SOGK9Dg9?si=87f7bd7fbc4445fd
GOTG YouTube Channel (watch full episodes with video!)  https://www.youtube.com/channel/UCkCy3xcN257Hb_VWWU5C5vA  
Gals On The Go Instagram https://www.instagram.com/galsonthegopodcast/  
Brooke's Youtube Channel https://www.youtube.com/brookemiccio  
Brooke's Instagram https://www.instagram.com/brookemiccio/  
Danielle's Youtube Channel https://www.youtube.com/c/daniellecarolan  
Danielle's Instagram https://www.instagram.com/daniellecarolan/  
Business Inquires Can Be Sent to: [email protected]
Please support the show by checking out our sponsors!
BetterHelp: Our listeners get 10% off their first month at BetterHelp.com/GALS
HeadSpace: Try HEADSPACE at HEADSPACE.COM/GALSONTHEGO and get one month FREE of their entire mindfulness library
GuruNanda: Go to GuruNanda.com/win for your chance to win a $500
Walmart gift card!
European Wax Center: Book your smooth escape with the experts at European Wax Center. Make a reservation today—your first wax is free
Starbucks Baya: STARBUCKS BAYA Energy drink is available online, at grocery stores, convenience stores, and gas stations nationwide.