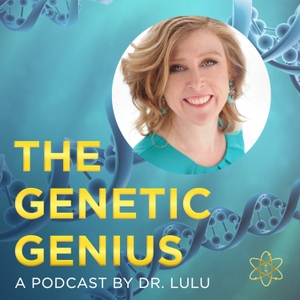 The Genetic Genius
By The Genetic Genius
What's The Genetic Genius about?
The Genetic Genius podcast is a show for people devoted to living the happiest and healthiest life through shifting, transforming and revolutionizing their DNA.
Our host, Dr. LuLu Shimek, brings you her discoveries on genetic health with leading experts in experts on planetary alternative health, botanical medicine, futuristic foods, inventive nutrition, spirituality, mindfulness and anything else out of this world. Dr. LuLu continues to share her deep passion for healthy living, joy and genetics each week to enliven people around the world by igniting their cellular freedom™ through body, mind and sprit.
This show covers a myriad range of topics including fertility, brain health, chronic pain, nutrition, hydrotherapy. herbal medicine, mindfulness, spirituality, vibrational medicine, alternative medicine, chronic diseases, holistic gardening, biohacking optimization and more.
Dr. LuLu Shimek is a Naturopathic Physician and expert in genetic health, working with patients experiencing chronic disease: autoimmune disease, digestive disorders, chronic pain, depression, anxiety and fatigue. She believes that once we dive deep down to the root of the problem of the distortion and ignite our bodies innate ability to heal, we see unimaginable changes in our well being. Using The Genetic Genius Podcast as her delivery platform, Dr. LuLu continues to share her discoveries and health blueprints for genetic healing and happy living once cell at a time.