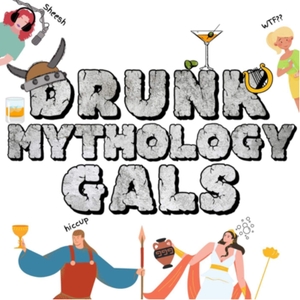 The gals are celebrating Lokipalooza this week with part 1 of a 4-part series on tricksters in mythology. Cait successfully avoids the rabbit hole of Jungian archetypes, Other Jenn crosses boundaries to be #TeamGreek this week, and Original Gen is now sad...like Loki.
***
From Olympus to Valhalla, we've got the goods on the gods, so join Cait, Gen, and the Other Jenn as they spike and spill all the divine tea! If you'd like to support our podcast, head over to PATREON where we'll be uploading ad-free episodes, bonus episodes, and SO MUCH MORE!
Subscribe thyself to our social media scrolls!
Instagram: @drunkmythologygals
Facebook: @drunkmythologygals
Twitter: @drunkmythgals
TikTok: @drunkmythologygals
Website: drunkmythologygals.com
Gmail: [email protected]
Special thanks to Kim Alexander for putting the topspin on our sound!
---
This episode is sponsored by
· Anchor: The easiest way to make a podcast. https://anchor.fm/app
---
Send in a voice message: https://anchor.fm/drunk-mythology-gals/message
Support this podcast: https://anchor.fm/drunk-mythology-gals/support