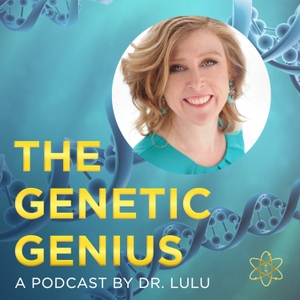 THE GUT-BRAIN CONNECTION: FINDING HAPPINESS IN THE GUT WITH LAURA MARTIN
07.08.2021 - By The Genetic Genius
On this week's episode #57 of the Genetic Genius, Laura Martin Certified IBS Nutrition Consultant discusses her battle with digestive illnesses and her expertise in digestive dysfunction with a focus on the gut brain connection.
Here are some of the topics and questions we discuss on the show:
1. What is IBS and what are some of the symptoms of this digestive dysfunction?
2. How does the mind and specifically the impact of stress play a role in how the gut functions?
3. Is this an immediate or acute affect or is it more of a long term affect - or maybe even both?
4. How about depression? Does this also play a role in how the gut functions?
5. How does food and nutrition play a role in IBS?
6. What about food allergies? Do these often play a role or is it more to do with the gut microbiome and dysbiosis?
7. Are there specific foods to eat to help with anxiety?
8. I know that many patients are often told to be put on a very restrictive diet, like FODMAPSs, to heal the gut - what do you think about this and what's the difference in how you work with clients?
9. What are the basic building blocks or foundations that need to be addressed when starting to heal the gut brain connection?
10. What do you think some secrets are behind healing gut dysfunctions?
To learn more about Laura and have a happy and healthy gut visit: www.healingtohappy.com
Follow Laura on Social media:
FB: www.facebook.com/healingtohappy
IG: www.healingtohappy.com/instagram
LI: www.healingtohappy.com/linkedin
Download Laura's free guide: The Ultimate Guide To Beat IBS Flare-ups https://mood.healingtohappy.com/ibsfreedom
To learn more about Dr. LuLu Shimek, pre-order her new book, and make an appointment please visit www.doclulu.com
See omnystudio.com/listener for privacy information.