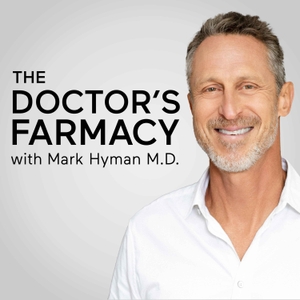 The Harmful Effects of Weedkiller (Glyphosate) On Our Health And Our Future | This episode is brought to you by Rupa Health, BiOptimizers, and TrueDark
The statistics on glyphosate, the world's most commonly used pesticide, are pretty grim. Billions of pounds have been applied globally since the 70s. In the US, though we're only 4% of the world's population, we use 20% of the world's supply annually. Then, we wonder why our rates of chronic disease are so much higher than other countries. The evidence against the use of glyphosate keeps mounting, yet it's still legally drenching our food supply. I try to be as good as I can about eating organic, high-quality food, and my glyphosate test revealed I was still in the 50th percentile. Studies have linked glyphosate to cancer, endocrine disruption, infertility, immune dysfunction, liver and kidney damage, and disruption of the microbiome. And not only is glyphosate harming human health and the health of our future generations, it's also destroying our ecosystems. 
Today on The Doctor's Farmacy I dive into all-things glyphosate with Stephanie Seneff. Stephanie Seneff is a Senior Research Scientist at MIT's Computer Science and Artificial Intelligence Laboratory in Cambridge, Massachusetts. She has a bachelor's degree from MIT in Biology with a minor in Food and Nutrition Science, and a master's degree, an engineer's degree, and a PhD degree, all from MIT, in Electrical Engineering and Computer Science.   
Her recent interests have focused on the role of toxic chemicals and micronutrient deficiencies in health and disease, with a special emphasis on the pervasive herbicide, glyphosate, and the mineral, sulfur. Since 2008, she has authored over three dozen peer-reviewed journal papers on these topics.  She is the author of a new book on glyphosate titled Toxic Legacy: How the Weedkiller Glyphosate is Destroying Our Health and the Environment (July 2021).
This episode is brought to you by Rupa Health, BiOptimizers, and TrueDark.
Rupa Health is a place for Functional Medicine practitioners to access more than 2,000 specialty lab tests from over 20 labs like DUTCH, Vibrant America, Genova, Great Plains, and more. You can check out a free live demo with a Q&A; or create an account at RupaHealth.com. 
Right now, BiOptimizers is offering Doctor's Farmacy listeners 10% off your Magnesium Breakthrough order. Just go to magbreakthrough.com/hyman and use code HYMAN10 to receive this amazing offer.
TrueDark Daylights help prevent eye strain and headaches from overexposure to junk light and TrueDark Twilights collection for nighttime helps you get deeper sleep. TrueDark is offering podcast listeners 15% off with code DRHYMAN15. Just go to truedark.com/hyman.
Here are more of the details from our interview: 
The history of glyphosate use (6:58)
How glyphosate harms human and soil health (9:15)
Glyphosate's impact on mitochondrial function, metabolism, vitamin levels, glutathione production, and more (15:29)
What do we know about glyphosate's role in cancer and liver disease? (17:55)
Why glyphosate's impact on sulfur metabolism is so detrimental to our health (19:05)
How glyphosate makes other chemicals more toxic to humans than they otherwise would be (23:06)
The connection between autism and glyphosate (24:50)
How our body swaps out glyphosate for glycine (30:55)
Is there a safe amount of glyphosate in the environment and in humans? (34:16)
What can we do to decrease our body burden of glyphosate? (40:24)
The multiple ways glyphosate is detrimental to the environment (43:15)
Countries that have banned glyphosate (50:44)
Learn more about Stephanie Seneff at https://stephanieseneff.net/ and follow her on Facebook @stephanie.seneff.5 and on Twitter @stephanieseneff.
Get your copy of Stephanie Seneff's new book, Toxic Legacy: How the Weedkiller Glyphosate is Destroying Our Health and the Environment here: https://bit.ly/ToxicLegacy_Amazon
See acast.com/privacy for privacy and opt-out information.