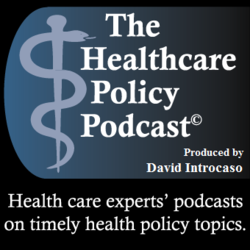 The Healthcare Policy Podcast ® Produced by David Introcaso
By David Introcaso
What's The Healthcare Policy Podcast ® Produced by David Introcaso about?
The Healthcare Policy Podcast website features audio interviews with experts on current or important health care topics. While there are any number of healthcare-related podcasts and other online programming these offerings typically present a vested interest viewpoint. My podcasts are produced independently, i.e., without any conflicts of interest and moreover are intended to help you better understand the inter-section between research and policy analysis and political realities. Among other topical areas this podcast will address:
Implementation of the Affordable Care Act
Other federal Medicare and Medicaid health care issues
Federal health care regulatory oversight, moreover CMS and the FDA
Healthcare research
Private sector healthcare delivery reforms including access, reimbursement and quality issues
Public health issues including the social determinates of health
Listeners are welcomed to share their program comments and suggest programming topics.
Comments made by the interviewees are strictly their own and do not represent those of their affiliated organization/s.