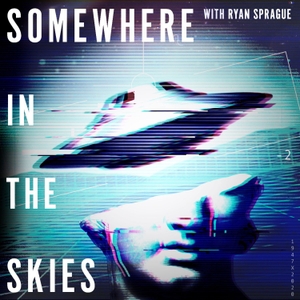 On episode 228 of SOMEWHERE IN THE SKIES, Ryan is welcomed by Karen Brard, President of the International UFO Congress and Alejandro Rojas, Master of Ceremonies. They give us the inside scoop on this year's virtual event and who will be speaking, including such names as journalists, Bryan Bender, Ross Coulthart, and Lee Spiegel. Harvard Professor and Astrophysicist, Avi Loeb, and astronomer, Marc D'Antonio, will also be speaking from a scientific perspective on UFOs. Experiencer researchers, NK Kranda, Yvonne Smith, and Kathleen Marden will be speaking about the traumatic effects of unexplained experiences. We discuss the additional lineup and then debrief on all the latest UFO news and where we may be heading when it comes to UFOs in 2021.
For tickets and information to the International UFO Congress, visit: https://ufocongress.com/
Patreon: www.patreon.com/somewhereskies
Website: www.somewhereintheskies.com
YouTube Channel: CLICK HERE
Official Store: CLICK HERE
Somewhere in the Skies Coffee! https://bit.ly/3mIAq2o
Order Ryan's book in paperback, ebook, or audiobook by CLICKING HERE
Twitter: @SomewhereSkies
Instagram: @SomewhereSkiesPod
Somewhere in the Skies Subreddit: www.reddit.com/r/SomewhereSkiesPod/
Watch Mysteries Decoded for free at www.CWseed.com
Episode edited by Jane Palomera Moore
Opening Theme Song, "Ephemeral Reign" by Per Kiilstofte
SOMEWHERE IN THE SKIES is part of the eOne podcast network. To learn more, CLICK HERE
Copyright © 2020 Ryan Sprague. All rights reserved. Support this show http://supporter.acast.com/somewhere-in-the-skies.
 See acast.com/privacy for privacy and opt-out information.