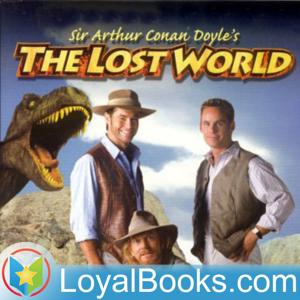 The Lost World by Sir Arthur Conan Doyle
By Loyal Books
What's The Lost World by Sir Arthur Conan Doyle about?
A journalist who undertakes a life threatening mission to impress the woman he loves, a mysterious plateau in South America that none of the locals dare to enter and an adventurous English aristocrat are all charectors you will encounter in Sir Arthur Conan Doyle's The Lost World. With Dinosaurs, ape-men, diamonds and secret tunnels the book is filled with enough action, excitement, drama and adventure to go around.
For Sherlock Holmes enthusiasts, Conan Doyle's hero in this book Professor Challenger is almost the antithesis of the cerebral sleuth. The squat, feisty, quarrelsome, boastful Challenger with the "face and beard of an Assyrian Bull" and a "stunted Hercules" is far removed from the eccentric, intellectual resident of 221B Baker Street with his Stradivarius violin and swirling tobacco mists.
The plot of The Lost World was not entirely new even when it was first published in 1912. The theme of an expedition to a remote region of the earth, hitherto undiscovered by civilization, was earlier portrayed in Jules Verne's 1864 novel Journey to the Center of the Earth. However, with The Lost World, Conan Doyle explores several other themes as well. The idea of civilization, theories about the origin of life on earth and the various motives that people who seek adventure may have are some of the interesting concepts encountered here.
In this story, Edward Malone is a young journalist who is sent to interview the bizarre claims made by Professor George Edward Challenger, who claims to have made an exciting discovery in South America. Ridiculed and reviled by his fellow scientists, the professor is in no mood to be pleasant. However, as Malone soon finds out, the claims are certainly worth an expedition in spite of the man's nasty temperament and insulting behavior. Malone himself wants to win the admiration of the lovely Gladys Hungerton. What follows is a strange, hazardous and rip-roaring adventure that takes Malone, the professor and a motley crew of adventurers into unknown territory.
The Lost World is the first in the series of three novels and two short stories featuring Professor Challenger. They reflect Conan Doyle's deep interest in scientific research and the Victorian preoccupation with adventure and discovery. The megalomaniac professor is reputedly based on one of Conan Doyle's own teachers at Edinburgh.
The book holds great appeal for young and older readers and has been extensively adapted for stage, screen, radio and TV.