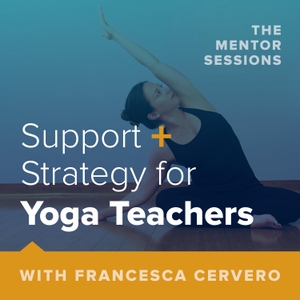 The Mentor Sessions
By Francesca Cervero
What's The Mentor Sessions about?
Francesca Cervero is a full-time yoga teacher and yoga teacher's mentor. She has been teaching yoga in New York City and Washington, DC since 2005 and the foundation of her teaching practice comes from OM Yoga Center's style of alignment-based vinyasa. Her teaching is also inspired by the years she spent in physical therapy, a constant curiosity about anatomy and biomechanics, and her love of Buddhist teachings.
Francesca believes that introducing more people to the deeply healing benefits of yoga has the power to completely transform our world and the best way to get more people practicing (mindful, therapeutic) yoga is to raise the bar of professionalism for yoga teachers. She hopes that yoga teaching can be a career path that is respected and allows for sustainable income. She believes that the responsibility is on us as teachers to be worthy of, and demand such respect. It is for this reason she has maintained a thriving business teaching 15 private yoga clients a week and added a full practice teaching and mentoring yoga teachers in The Science of the Private Lesson™.
Here is the plan for The Mentor Sessions: Support + Strategy for Yoga Teachers--->
Making the deeply healing benefits of yoga and its sister practices more accessible has the power to transform the world we live in. An important part of making smart, mindful, therapeutic yoga more widely available is for all of us to continue to deepen and evolve as teachers.
I believe the depth that arises in teaching comes from inquiry and relationship, not from collecting information from gurus.
I want the yoga world to have higher standards for quality teaching AND better support networks for teachers, and I want this podcast to be at the forefront of those discussions.
I'm here to offer nourishing support to help you feel more confident in your teaching and realistic strategy to help you find more clarity on your career path.