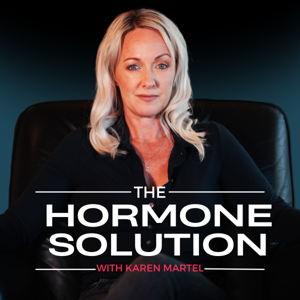 The Hormone Solution with Karen Martel
By Karen Martel Hormone Specialist
What's The Hormone Solution with Karen Martel about?
Welcome to The Hormone Solution Podcast with Karen Martel – your personal invitation to a world of hormone health, sustainable weight loss, holistic well-being, and embracing life's stages with a big old dose of vitality and confidence. (Remember, we used to go by The Other Side of Weight Loss – just in case you're wondering!)
Meet Karen Martel, your go-to gal, a Certified Hormone Specialist and a total pro when it comes to women's hormones and busting through weight loss resistance. From dealing with all the craziness that comes with midlife to embracing the strength that comes with age, she's here to be your trusty sidekick through thick and thin.
Our mission? Well, it's pretty simple: we're here to dish out practical solutions to those hormone-related puzzles that can drive you crazy, especially when perimenopause and menopause roll around. Expect to hear advice you can actually put into action, insights from the pros, and conversations that might just blow your mind.
Step into episodes filled with enlightening conversations alongside experts, thought leaders, and fellow warriors united in their quest to optimize women's health.
Ready to explore the vast universe of hormones and how they impact every little corner of your life? Yep, that's what we're all about. We're not afraid to shake things up, arm you with real tactics, and empower you with the knowledge to own your health journey.
So, don't be a stranger! Tune in, hit that subscribe button, and let's dive headfirst into this thrilling adventure of transformation and empowerment. Get set to uncover the roadmap to becoming the best version of yourself – from the inside out.
New episodes are released every Saturday!
Take the free hormone quiz over at https://karenmartel.com