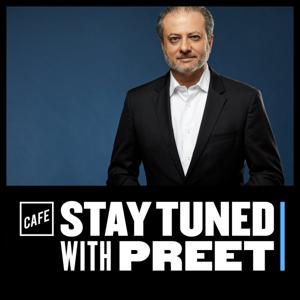 When Eric Adams was sworn in as mayor of New York City in January, he became the second Black mayor in the city's history. A former police officer, Adams has emerged as a national voice on crime and public safety. Preet interviewed Adams live on stage at Cooper Union in New York City on Tuesday, April 26th, for the 2022 John Jay Iselin Memorial Lecture.  
Plus, Preet's thoughts on Elon Musk's acquisition of Twitter, a background on Supreme Court chief justices, and a civics lesson on the bail system. 
For show notes and a transcript of the episode, head to: https://cafe.com/stay-tuned/the-perfectly-imperfect-mayor-with-eric-adams/
Tweet your questions to @PreetBharara with hashtag #askpreet, email us at [email protected], or call 669-247-7338 to leave a voicemail.
Stay Tuned with Preet is brought to you by CAFE and the Vox Media Podcast Network.
Learn more about your ad choices. Visit podcastchoices.com/adchoices