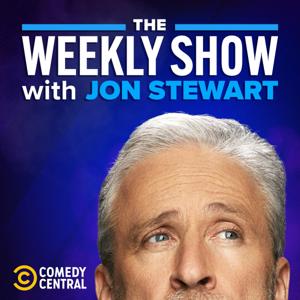 It's Veterans Day, so we're talking to some vets. Jon is joined by Staff Sergeant Wesley Black, who sadly passed away shortly after this episode was recorded, and Sergeant Isiah James. You may remember them from the Apple TV+ episode we did on burn pits—if you didn't see it, you really should. Jon also catches up with his friend, Air Force Senior Master Sergeant Israel Del Toro.
If you are looking for ways to help, please check out Burn Pits 360. You can also subscribe to our newsletter at theproblem.com.
We want to hear from you! Have a question, comment, or criticism? Call our hotline: 212-634-7222
CREDITS
Hosted by: Jon Stewart
Featuring, in order of appearance:
Isiah James, Israel Del Toro, Rob Christensen, Robby Slowik, Kris Acimovic, Tocarra Mallard, Wesley Black
Executive Produced by Jon Stewart, Brinda Adhikari, James Dixon, Chris McShane, and Richard Plepler
Lead Producer: Sophie Erickson
Producers: Caity Gray, Robby Slowik
Assoc. Producer: Andrea Betanzos
Sound designer & audio engineer: Miguel Carrascal Senior Digital Producer: Kwame Opam
Digital Coordinator: Norma Hernandez
Supervising Producer: Lorrie Baranek
Head Writer: Chelsea Devantez
Elements Producer: Kenneth Hull
Talent: Brittany Mehmedovic, Haley Denzak 
Research: Susan Helvenston, Andy Crystal
Theme Music by: Gary Clark Jr.
The Problem With Jon Stewart podcast is an Apple TV+ podcast, produced by Busboy Productions.
https://apple.co/-JonStewart