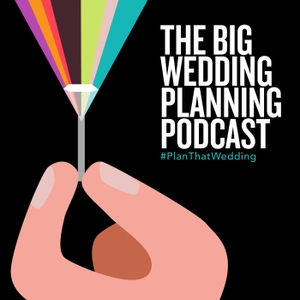 Irina Vishnevskaya, from Alle Travel, joins us again to talk about traveling (especially with honeymoons) mid-pandemic. She shares tips on traveling abroad, how to find out restrictions in other locations, and more. While traveling is different right now, it doesn't mean it can't happen. It's all about adjusting expectations, and having grace for those on the ground.
Big Takeaways
While the pandemic has shifted and things are starting to open back up, there are still travel restrictions in most countries. Before planning the big getaway, think about whether or not it is worth it. There are places that have been consistently easier to access if you are vaccinated, like Iceland, Hawaii, etc.
The CDC and State Department websites have a detailed breakdown of every country and their current status with Covid as well as travel restrictions. Keep in mind that the state department is approaching it from a safety standpoint. As an example, while New Zealand is safe in terms of Covid cases, they are not allowing tourism, so you will have to do more research.
Remember, even with traveling with less restrictions, every body is still reeling from shut downs. Some stores might be closed, or hotels under staffed, or restaurant hours cut. Just be mindful.
As far as vaccine passports go, it is unlikely that there will ever be a globally accepted passport, but be mindful of how to show you have been vaccinated. Keep your card with you at all times, take a picture, laminate, etc.
As of now, if travelling abroad, in order to return to the U.S., you will have to give proof of a negative Covid test.
Hawaii is a very popular destination right now, but it comes with its own issues. Lack of rental cars, limited hotels, etc. Book your car before your flight!
Europe, Costa Rica, and Mexico are other great options.
Flight times are changing pretty consistently. You are buying a flight for the day, but the time is likely to change. Do not try to plan a tight schedule. Things will change and shift. TSA is also delayed and airports are packed. Give yourself plenty of time for travel.
Dream big, but accept the mental load of what that means! Check money back options, in case you have to cancel or change dates. Get comfortable with the small print. Traveler's insurance does not cover COVID restrictions. If a flight is cancelled, they have to give you a credit.
Links We Referenced
alletravel.co
Alle Travel
Alle on Instagram
CDC Travel Recommendations
US Dept of State Travel Advisories
UK Government Travel Advisories
Australian Government Dept. of Health
Quotes
"Napa Valley is incredible. The Pacific Northwest. There's just so many good options in this country too. So if the unknown feels like, "ugh!" Don't do that to yourself. There is no need to torture. Your honeymoon should not be a source of stress." - Irina
"Keep in mind you can research and talk to people, but ultimately there's always going to be a bit of a wild card. And just accepting that." - Irina
"Just please have grace. Know that nobody is wishing you ill. They're just doing their best." - Irina
"Europe is such a rich destination and every country as so much to offer, even though it's so tiny. I know as Americans we're always like, 'It's the size of Rhode Island! I can do like 10 countries in 10 days. That's so cool.' What we have always wished is for clients to focus more in Europe because there is so much more. Please trust me you can spend two weeks, three weeks in any European country and never get bored." - Irina
Plan your wedding using The Big Wedding Planning Master Class. A self-paced digital course created with love for you by Christy & Michelle.
The Big Wedding Planning Podcast is...
Hosted and produced by Christy Matthews and Michelle Martinez.
Edited by Veronica Gruba.
Music by Steph Altman of Mophonics.
On Instagram @thebigweddingplanningpodcast and be sure to use #planthatwedding when posting, so you can get our attention!
Inviting you to become part of our Facebook Group! Join us and our amazing members. Just search for The Big Wedding Planning Podcast Community on Facebook.
Easy to get in touch with. Email us at [email protected] or Call and leave a message at 415-723-1625 and you might hear your voice on an episode
On Patreon. Become a member and with as little as $5 per month, you get bonuse episodes, special newsletters and Zoom Cocktail Hours with Christy & Michelle!
Our Partners
Special Deals for Listeners - TBWPP Enthusiastically Approved!
Wedfuly
SuitShop
FlowerMoxie
The Flashdance
Cactus Collective
Unboring Wedding Academy