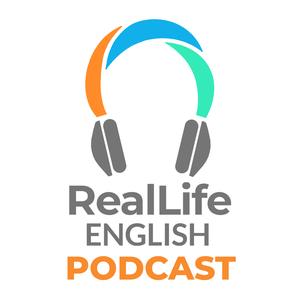 The RealLife English Podcast
By RealLife English
What's The RealLife English Podcast about?
Learn vocabulary, grammar, expressions, and culture with fun and informal unscripted dialogues from the guys from Real Life English.
Here's what other people have to say about the Real Life English Podcasts: "I religiously listen to you guys on the way to work. When I have to stop at the traffic lights, people look at me thinking, "What's she up to?" Because they see me laughing and I'm by myself. Anyway, it's the best way to learn real everyday English." ...
"I'm glad you guys don't follow the other podcasts which are mostly boring and too formal. I want to learn real daily English, not from books. You are head and shoulders above the rest. Aww yeahhhh." ...
"The most effective way to boost your English. Fun and loaded with content. Learn English with the Real Life Guys the way it's actually used. No boring exercises." ...
"RLE is the best way to learn English." ...
"I'm majoring in English and admire your podcasts. I can say that this is the best way to improve your English, you must listen this!! Real conversations and fun. :)"