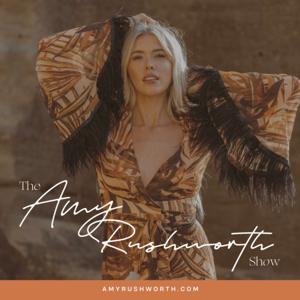 96 - The Rebirth, Embodiment + Integration Of Breathwork with Ava Johanna
02.23.2022 - By The Amy Rushworth Show
Ava Johanna's mission is to bridge the gap between modern neuroscience and mysticism so breathwork and meditation are made accessible to everyone from high-level executives to stay-at-home parents. She founded The Academy of Breath, an international breathwork and meditation school focused on making these ancient embodiment practices household tools across the globe. 
From being homeless at the age of sixteen, Ava's rise to fulfilment, entrepreneurial success with The Academy of Breath, and claiming a mission that serves all, makes her the living embodiment of perseverance, healing, and wellness.
This conversation is full of deep insights into the medicine of breathwork and the transformational power of the practice. 
✨ The integration of passion, pleasure and play in business. 
✨ The unravelling and shifting patterns of our identities and the evolution of that in our businesses. 
✨ The variety of breathwork techniques and practices and how they can be chosen to serve our bodies. 
✨ The discernment that comes from healers and facilitators shedding the fear of not having all the answers for their clients. 
✨ The power of body-based practices and how these spiritual experiences can fundamentally change our nervous system.
✨ The lifecycle of breath; the death and rebirth that is available from breathwork practices. 
CONNECT WITH AVA...
Insta - @avajohanna
The Academy of Breath
CONNECT WITH AMY...
Orgasmic Ascension >>> https://amyrushworth.com/orgasmic-ascension
Unapologetic 2022 Biz Mastermind >>> https://amyrushworth.com/unapologetic
Cosmic Creatrix: Manifestation School >>> https://amyrushworth.com/cosmic-creatrix
All other courses >>> https://amyrushworth.com/work-together
Free magic:
FREE ABUNDANCE BUNDLE - https://amy-rushworth.mykajabi.com/the-abundance-bundle
Insta - @thisisamyrushworth
Website - amyrushworth.com