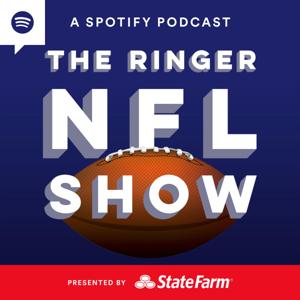 The Ringer NFL Show
By The Ringer
What's The Ringer NFL Show about?
SUNDAY: Nora Princiotti and Steven Ruiz break down Sunday's games, with an appearance from Ben Solak on Sunday's biggest storyline.
MONDAY: Sheil Kapadia and Ben Solak go deep on Sunday's story lines and analyze MNF.
TUESDAY: Jason Goff and Austin Gayle go through the weekly Ringer Power Rankings, with Steven Ruiz joining later to discuss his QB rankings.
WEDNESDAY: Nora Princiotti invites a guest to share their spicy take, and see if Nora is willing to join them on their island.
THURSDAY: Sheil Kapadia is joined by a guest to discuss some big-ticket NFL news items across the week.
FRIDAY: Danny Heifetz, Ben Solak, and Steven Ruiz preview the NFL slate with analysis, insight, and banter.