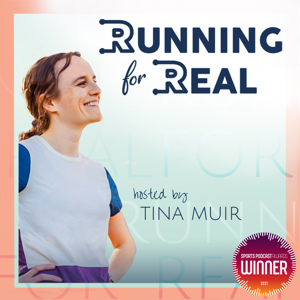 The Running for Real Podcast
By Tina Muir
What's The Running for Real Podcast about?
A collective of conversations that inspire, motivate, and encourage runners who know deep down that the world we want to create already exists. We all play a role in bringing it to life. Join former professional runner and life-long athlete, Tina Muir in this unique running podcast. We do not talk to professional runners about their wins or the Olympics. We do not talk about what shoes to wear or what training is best. Instead, we relate every experience back to you, and love to think hard about the questions you would always love to ask.
While we bring on well known guests like Malcolm Gladwell, Reshma Saujani, Ryan Holiday, Des Linden, Michael Gervais, and David Epstein, these are not the same old conversations. This feels more like overhearing two friends talking about the deep conversations that weigh on our hearts daily. Join us in discovering the power of running, why our sport has always been part of humanity, and how we can use it as a tool for realizing our truest self, uplifting our communities, celebrating cultures, and taking care of our Mother Earth.