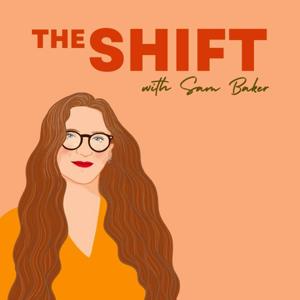 The Shift with Sam Baker
By Sam Baker
What's The Shift with Sam Baker about?
The Shift is a podcast that aims to tell the truth about being a woman post-40, created and hosted by writer and broadcaster, Sam Baker. 
Did you ever wonder why you stop hearing so many women's voices once they pass 40? That's where The Shift comes in - a frank, funny, sometimes heartbreaking, always honest look at what it means to be a woman in midlife and beyond. Work, life, love, health, sex, money, identity, body image... What does it all mean when everything around you (and inside you...) is changing? Each week, award-winning author and journalist Sam Baker asks a different woman how she got here, where she's going - and how it feels to be where she is right now. Expect intimate conversation, big laughs, occasional tears and an awful lot of ripping up the rule book and stamping on it... Past guests have included Nicola Sturgeon, Marian Keyes, Guilty Feminist Deborah Frances-White, Minnie Driver, Philippa Perry, Anita Rani, Tracey Thorn, Isabel Allende, Bobbi Brown, Barbara Blake-Hannah and many more, talking everything from confidence to career reinvention, mental health, menopause and so much more.
If you love The Shift and would like to hear more conversations with women over 40, why not become a member of our community and receive a weekly newsletter, get exclusive transcripts, join The Shift bookclub and so much more, please visit https://theshiftwithsambaker.substack.com/ Hosted on Acast. See acast.com/privacy for more information.