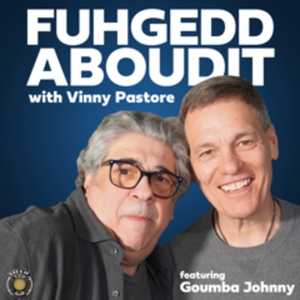 The Boys are back and catching up once again in the studio! They started off the day great, Vinny claimed he is into Yoga lately. Do we believe him? Either way, Vinny is getting older gracefully. They call their good friend (well now a new friend to Johnny!), Louis Lombardi AKA Ducky. You know Louis from his appearances in the Sopranos, 24 and Entourage! Also is a writer, director of the films DOUGHBOYS and THE BOSS. 
Johnny and Louis meet over zoom, for the first time! As they all start to talk about their lives, they realize they might have crossed paths before. Is it possible Johnny and Louis grew up together without ever meeting each other?
They all talk and watch clips from The Sopranos. Johnny loves Vinny and comments at what a great actor he is. Did you know that Louis tried out for Vinny's part of Big Pussy?! He ended up playing Skip. The two reminisce of the times they would smoke weed and then rehearse lines for their scenes in HBO's The Sopranos. 
You can check out Louis now on The Rock's new television show, The Young Rock. He's hilarious! He was recently in Hawaii filming for the show, was an awesome opportunity as it is a perk as an actor to get to travel! He tells us about hanging with the Rock's cousin in Hawaii Tanoi Reed. The boys also discuss how Louis got the nickname Ducky, his frozen pizza brand, and times at Vinny's club. Did you know that Matt Dillon would come around Vinny's bar time to time? Because he played all these tough guys in movies, most of Vinny's customers would try to fight Matt so they looked tough. WILD!
The boys are then joined by actress and Medium, Tessa DelZoppo. They have a great time catching up and learning about each other!