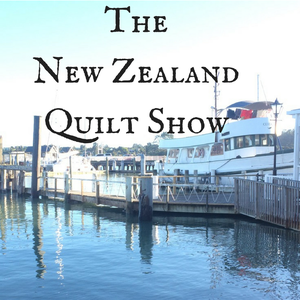 The Towrags, SewEzi, Kathy Anso, Linda Rae, Bernina and Catherine MacDonald on The NZ Quilt Show
04.28.2018 - By The New Zealand Quilt Show
Welcome to the final Christchurch Symposium 2017 podcast.  You can listen to the others in this series over on my podcast site here.  It's been a busy few months for me, with a month's holiday, then selling the boat, and moving house, so I apologise to all my wonderful guests who have waited patiently for me to publish their interviews.
In this final roundup, you will hear:
The TOWRAGS (Totally Organised Women Religious Attending Group Sex Stitching) Sheryl Anicich, Irene, Debra DeLorenzo, Jeanie O'Sullivan and Gaynor.  Missing is Ngaire and Pat.  This group of talented women won four awards between them at Christchurch Quilt Symposium 2017. Their 'People of Colour' quilt won the merit award in the Power of Two category.
I get to talk to New Zealand's very own Catherine Davis-Colley, the designer of the SewEzi table.  2017 saw SewEzi celebrate 15 very succesful years of production.
Kathy Anso, talks to me about the Students of Nancy Crow exhibition that she curated.  
Linda Rae, also part of the Students of Nancy Crow exhibition.
Glynn Singleton (Managing Director) and Rebecca Owen (Long Armer Extroidinaire) on the Bernina stand.  Bernina were the major sponser of Christchurch Quilt Symposium 2017, providing 286 hire machines, 1.2 kilometres of duct tape, 120 extension leads and 130 multi boxes!! Plus multiple prizes, technical support and all those other wonderful things sponsors do.
2018 is Bernina's 125th anniversary, so some of the things Glynn talks about as coming up, are now rolling out.  Keep your eyes peeled.
And finally I talk to Catherine MacDonald (the convener of the symposium). She and her trusty committee were ready for a much-needed nap by the end of the week!
Thank you to all my faithful listeners and wonderful guests.  I'm orgnising a new line up for the rest of 2018, so stay tuned!