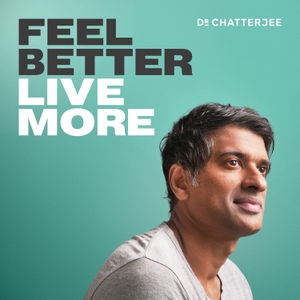 We've been told that the more we move, the more calories we will burn but today's guest is here to explain why this way of thinking is wrong. Dr Herman Pontzer is an evolutionary biologist who researches how our deep past shaped the way our bodies work today.   Over the past 20 years, Herman has conducted ground-breaking research across a range of settings, including pioneering fieldwork where he lived with the Hadza hunter-gatherers in northern Tanzania. The Hadza are considered one of the last hunter-gatherer tribes in the world and provide a unique insight into the way we used to live.   In our conversation today and in his new book, Burn: The Misunderstood Science of Metabolism, Herman reveals his findings that despite the fact that Hadza men and women get between five and ten times more physical activity every day than most women in the USA or Europe, their total energy expenditure – the amount of calories they burn – is the same.   Exercise does not increase our metabolism. Instead, we burn calories within a very narrow range: nearly 3,000 calories per day for men and 2,400 calories for women, no matter our activity level. In fact, our metabolism - the way our body burns energy – affects every aspect of our biology from our pace of growth, reproduction and ageing to our weight and health. If we burn more energy in one area, our bodies will adjust by spending less energy in another. But all this doesn't mean that you shouldn't exercise. Far from it. Herman explains why movement is essential for humans.   We also discuss what the real paleo diet looks like and how many of us have been seduced into expecting every meal to be mind-blowingly tasty. Finally, Herman describes what it was like living with the Hadza and shares the lessons he learned from observing this ancient way of life. This is an enthralling episode and I hope you enjoy listening.
Thanks to our sponsors:http://www.calm.com/livemorehttp://www.vivobarefoot.com/uk/livemorehttp://www.athleticgreens.com/livemore
Show notes available at https://drchatterjee.com/191
Follow me on instagram.com/drchatterjee/ Follow me on facebook.com/DrChatterjee/ Follow me on twitter.com/drchatterjeeuk
DISCLAIMER: The content in the podcast and on this webpage is not intended to constitute or be a substitute for professional medical advice, diagnosis, or treatment. Always seek the advice of your doctor or other qualified health care provider with any questions you may have regarding a medical condition. Never disregard professional medical advice or delay in seeking it because of something you have heard on the podcast or on my website. See acast.com/privacy for privacy and opt-out information.