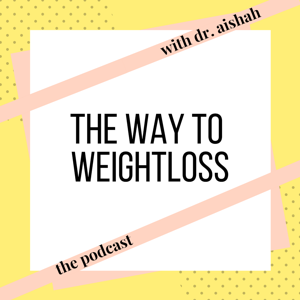 The Way To Weight Loss
By Dr Aishah Muhammad
What's The Way To Weight Loss about?
Are you a busy woman who is struggling to lose weight? This podcast is the resource you have been looking for.
The Way To Weight Loss is a podcast for busy women who are looking for safe, sustainable and science based advice on how to lose weight. No more hunger inducing diets or nightmarish hours on the treadmill.
Each week you will receive two episodes a week where I guide you through actionable steps to get more active, improve your diet and overcome stress eating. Our time is valuable as we juggle hectic work schedules, the rushed school runs, exciting projects and buzzing social lives. Your health and weight loss journey does not need to take a back seat. I will prove to you that by taking simple, small steps consistently you can transform both your mind and body.
Your host is Dr Aishah Muhammad, a UK based junior doctor, qualified personal trainer and weight loss coach. She has made it her personal mission to help women lead happier and healthier lives by providing a platform that gives them the information they need. She is here to empower you and remind you that you are capable of climbing mountains. You can find out more about her and the work she does at www.thewaytoweightloss.com