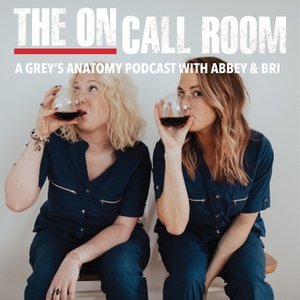 This week Abbey and Bri say one final farewell to Donna. After searching for any piece of information to solve the puzzle of Donna, they find a way to let her go. They also talk about the saddest moments in movies...for way too long.
As for this episode of Grey's, Derek shaves, which in this world means that he now has his brain surgery super powers back. He performs surgery on Izzie and to no one's surprise he crushes it.
No one is there for Izzie because everyone is weirded out she is sick, and they don't know how to potentially handle loosing her. Bailey teaching moment to everyone, telling them to show up next time and do better. We all agree.
AND THEN ELEVATOR LOVE PROPOSAL! Derek is so ready to commit himself to Meredith and she is so ready to do the same. We have been waiting for five seasons for this to happen, and we wouldn't have had it any other way.
SPONSORS:
www.thisisaday.com
Use code OnCallRoomxADAY to get 20% off your first purchase!
____________________________________________________________
Become a sustaining member and cohost the show! Follow the link below:
www.patreon.com/theoncallroom