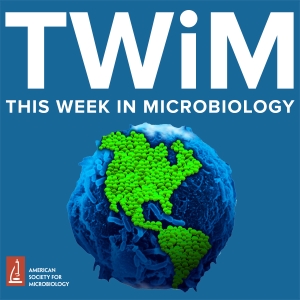 This Week in Microbiology
By Vincent Racaniello
What's This Week in Microbiology about?
This Week in Microbiology (TWiM). A podcast about unseen life on Earth hosted by Vincent Racaniello and friends. Following in the path of his successful shows 'This Week in Virology' (TWiV) and 'This Week in Parasitism' (TWiP), Racaniello and guests produce an informal yet informative conversation about microbes which is accessible to everyone, no matter what their science background.
As a science Professor at Columbia University, Racaniello has spent his academic career directing a research laboratory focused on viruses. His enthusiasm for teaching inspired him to reach beyond the classroom using new media. TWiM is for everyone who wants to learn about the science of microbiology in a casual way.
While there are no exams or pop quizzes, TWiM does encourage interaction with the audience via comments on specific episodes, email and Skype. Listeners can also use www.MicrobeWorld.org to suggest topics for the show by submitting articles, papers, video and images to the site and tagging them with "TWiM". Each week Racaniello will view the tagged content and select items for discussion.
For questions and/or feedback please email [email protected]