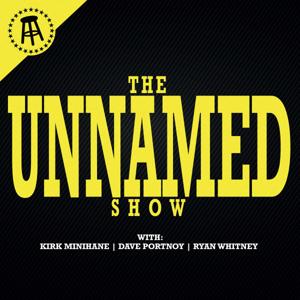 Tiko Texas Storms Barstool HQ w/ a Podcast Pitch and New Music
On this week's Dave Portnoy Show w/ Eddie and Co., Dave addresses Eddie's recent pot-stirring including his S+D finger tattoo and his time spent with Mr. Portnoy in Boston.
Eddie asks Dave about the 'Barstool vs. America' inner-office drama and Dave's time in Saratoga.
"Top 5 Barstool character of all time" Tiko Texas brings the noise to the studio as she pitches her own podcast, samples some of her upcoming music, and clashes with Kevin Clancy.
TOPIC 1 - EDDIE vs. DAVE
00:01:27
TOPIC 2 - EDDIE & MR PORTNOY
00:04:00
TOPIC 3 - BARSTOOL VS. AMERICA
00:12:35
TOPIC 4 - SARATOGA
00:14:42
TOPIC 5 - BARSTOOL FUND
00:22:52
TOPIC 6 - SHARK REBRAND
00:24:18
TOPIC 7 - INSIDE BARSTOOL
00:28:25
TOPIC 8 - TIKO TEXAS
00:44:21
ADDITIONAL LINKS
- SAFTB Video
https://twitter.com/VivaLaStool/status/1416442582582931458?s=20
- NY Post Article
https://nypost.com/2021/07/17/barstool-sports-bails-out-nyc-food-joints-hurt-by-covid-19/
- Frank's First Pitch
https://twitter.com/VivaLaStool/status/1415810676505858048?s=20
- Mintz Eats a Banana Fast
https://twitter.com/VivaLaStool/status/1416098275724304384?s=20
Tiko Texas Performs at SXSW 2016
https://www.youtube.com/watch?v=XvCze2ps5f8
PLEASE SUPPORT OUR SPONSORS
PRESENTED BY TRADEZERO
Sign up with https://barstool.link/TradeZero
TRIFECTA NUTRITION
Shop meal plans and get 40% off with code DAVE at https://barstool.link/TrifectaBSS
ZIPRECRUITER
Try ZipRecruiter for FREE at https://barstool.link/ZipRecruiterPORTNOY
RHOBACK
Use the code "EDDIE" on https://barstool.link/Rhoback for 20% off your first order