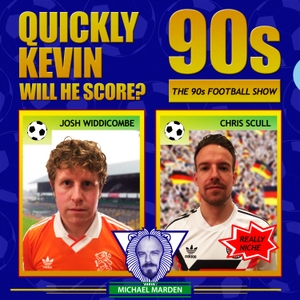 Back in the studio this week is Quickly Kevin regular Tom Craine as we take a look at Terry Smith's failed spell at Chester City in the late 90s. Deploying such tactics as 'regular 442 rules', appointing "three captains" and passing on half time advice such as "they keep putting it in the hole"; Terry (an American who came to the English football league via the NFL) had been accused of not knowing much about football. We took to a Chester City documentary to discover the truth.
There's also an update on Man Utd's away hotel room pairings and an amazing new Eddie McGoldrick chant.
Twitter: @quicklykevin
Facebook: quicklykevin
Instagram: quicklykevin
Email: hello@quicklykevin
For your chance to win an exclusive 'Graham Says: Hit Les' Quickly Kevin mug leave us a 90's Football based 'Review Haiku' on iTunes!!
Thanks,
Chris, Josh and Michael. For information regarding your data privacy, visit acast.com/privacy