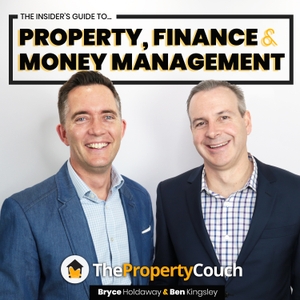 It can be a rough ride when you're just starting your home ownership journey — and trying to get your foot up on the property ladder is, let's be honest… really hard!
So today's episode is all about helping our "Firstie" folks! That's right… our very First Home Buyers!!! And we're going Q&A; style so we can stretch out the ol' helping hand to our Firsties, and our Mums & Dads of Firsties, and haul all of them up on the ladder with us!!
And if you're scratching your head thinking, "I'm not a first home buyer, or even a parent, family member or friend of one…" — no probs. You'll learn what it's REALLY like to face today's property market for the first time… and you might just pick up some tips that you can actually use on your own journey… or just pick up some nuggets of new gold and file these away for when you want to impress someone with your property and homeownership knowledge. (Suss below for a summary of what we're discussing and the exact questions we answer in today's episode.)
 
You'll learn Top Tips, like these…
* How Much Of A Deposit is Enough? (seriously.)
* The First Home Buyer Scheme
* The Best Way To Get Ready For A Mortgage
* Credit Scores
* Higher Yielding Properties vs. Capital Growth Properties
* How A Single Woman Can Get On The Property Ladder
 
Free Stuff Mentioned + Extra Support…
* Free Report: Are You Saving For A Deposit?
* Free Report: How to Start Investing In Property?
* Free Book: Make Money Simple Again (Credit Card Disaster and/or Rapid Home Deposit Builder)
* SUBURB GROWTH —> Use code TPC25 to get 25% off (yes, it will only cost you $14.95 for a full suburb report incl. projected growth for the next THREE YEARS)
* RBA Cash Rate Announcement – October 2019 RBA Cash Rate DROP
* Ben's Did You Know… First Home Loan Deposit Scheme
 
The Exact Questions Answered in Today's Show…
Question from Jake
So we have bought a lemon!!! We have purchased a lemon, it's been fantastic as it's high yielding and we have a low income as I'm still studying. But I'm about to graduate and are unsure if we should move the money into a more balanced property, or if the cost of selling etc, will just lose too much money? The struggle is even when I graduated we will both be on fairly low incomes so, is a high cash flow possibility a benefit for us? Thanks for your time. I love the podcast, I've read the book and I'm excited for what the future holds!
 
Question from Joel
Hi Bryce, Ben and Stiggy. I am currently studying at university and working two jobs (48hrs a week) to support my partner and newborn and have been utilising the First Home Super Saver Scheme (FHSS). I've used this for two reasons one for the salary sacrifice tax saving, but to also reduce my taxable income to minimise my Help/HECS Debt repayments whilst studying.