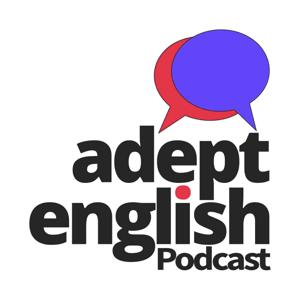 In this podcast we're going to talk about some more of those 'everyday English idioms' you'll hear at work. If you need to improve your workplace English, well this podcast is for you!
Being  fluent in English means understanding and using idioms effectively.  Listen to our idioms podcast lessons and get fluent in idioms. In this Podcast, you will learn the meaning of each idiom and how to use them in actual conversations.
Improve Your Workplace Conversations With These Everyday English Idioms
✔Lesson transcript: https://adeptenglish.com/lessons/english-idioms-at-work-continued/
Recently I did a podcast on everyday English idioms you will hear at work, episode 508. Well, you liked that one, so today, let's cover some more of those 'idioms you'll hear at work.
I  enjoy using idioms for fun. When I talk to friends, I use them. I like  to learn what they mean and how to use them the right way. Listen to our podcast to learn more
Learn more about our courses here: https://adeptenglish.com/language-courses/
Adept English is here to help with FREE English lessons and language  courses that are unique, modern and deliver results. You can learn to  speak English quickly using our specialised brain training. We get  straight to the point of how you should learn to speak English. We teach  you in a fun and simple way that delivers results. If you want to learn  to speak English, our approach to learning through listening will improve your English fluency.