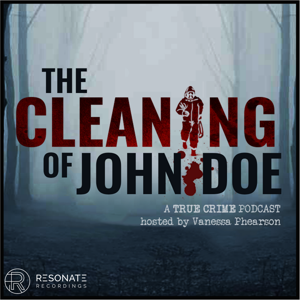 The Cleaning of John Doe's true crime podcast follows Vanessa Phearson and her husband, Ethan, on some of their most grisly and interesting clean-ups. Life can change at any moment and The Beginning will tell the tale of how circumstances aligned (including witnessing a suicide) and led Vanessa from part-time telecommunication manager to full-time crime scene cleaner.
Mixed, mastered and produced by ResonateRecordings.com
Have a question for us? Call us now at (818) 850-2439 and we'll take up your question on a Q & A episode! Don't be shy - we want to hear from you!!
Get social with us!
Facebook: https://www.facebook.com/TheCleaningofJohnDoe/
Twitter: https://twitter.com/JohnDoePodcast
Mailing List: http://thecleaningofjohndoe.com (the bottom of any page other than the home page)